Palpung means Mount of Excellence. Palpung (tib.) means the accumulation of the best talents in many fields: meditation, ritual, astrology, philosophy, medicine, art, literature and so much more.
The Supreme Head and founder of the Palpung Congregation is Guru Vajradhara H. H. Chamgon Kenting Tai Situpa. The Palpung lineage is older than 2600 years old.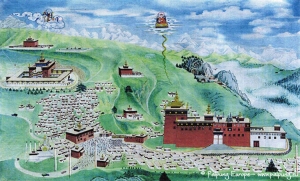 Palpung in Dege, Palpung Thubten Chökhor Ling, Eastern Tibet was founded in 1727 by the Guru Vajradhara H. H. The 8th Chamgon Kenting Tai Situpa, once hosted more than thousand monks and was endued with the leading monastic university (shedra) of the area. It was known for its huge library with its more than 324 000 texts and a collection of 10,150 thangka paintings. Palpung was leading in the art of spiritual painting and Guru Vajradhara H. H. Chamgon Kenting Tai Situpa the founder of Karma Gadri style of painting. During the time of HGuru Vajradhara H. H. 11th Chamgon Kenting Tai Situpa, Palpung enjoyed best reputation in spiritual, studious and artistic excellence and authority. Palpung is seat of the eight practice lineages of Vajrayana, the Rime movement evolved in Palpung. During the late 1950s, the monastery was destroyed. The reconstruction is still under ist way.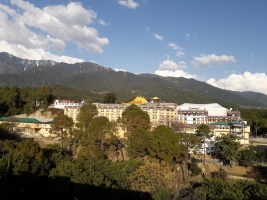 Palpung Sherab Ling Monastic Seat is situated in Himachal Pradesh, Northern India and was established in 1975 by Guru Vajradhara H. H. The twelfth Chamgon Kenting Tai Situpa. It is the Seat of the current, 12th incarnation of the Chamgon Kenting Tai Situ Rinpoches. The project developed into a leading center for the entire Buddhism and all other branches of knowledge and beyond; just like Palpung in Tibet.
Palpung has more than 180 branch monasteries and temples throughout several Chinese and Tibetan districts, as well as monasteries, temples and centers in the entire world, educating disciples in all aspects of religious and secular life in its both seats in Tibet and India to become masters in the various fields.
Palpung is Seat of all eight practice lineages and ten academic lineages of Tibetan Buddhism or Vajrayana.