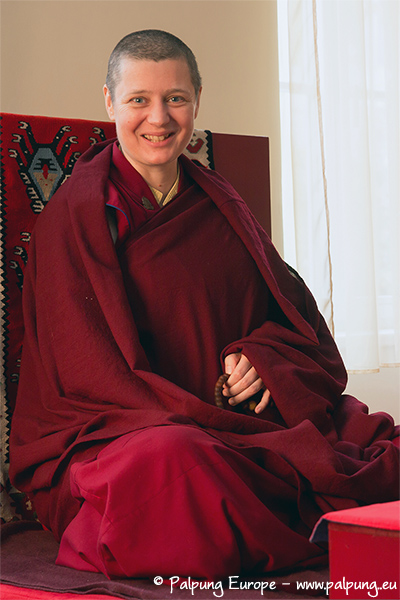 Born in 1970, Chöje Lama Palmo graduated from Vienna Business School and subsequently from University of Vienna, having studied German philology and Romance languages. In her worldly life she worked in the media, as journalist, PR
manager and photographer.
At 20, she connected with Buddhism and renounced worldly life and divorced at the age of 27. She received the monastic vows of a getsulma from Chamgon Kenting Tai Situ Rinpoche and the full ordination of a gelongma  (Skr. Bikshuni) from a Mahayana lineage after having completed the traditional Karma Kamtsang three years' retreat which she underwent in  Karma Triyana Dharmachakra under Ven. Khenpo Karthar Rinpoche.
She has studied and practiced the Buddhadharma under and in Palpung Sherab Ling from her root Guru Guru Vajradhara Chamgon Kenting Tai Situ Rinpoche since her taking refuge under the 3 Jewels in her early twenties and also received numerous transmissions from many masters.
She received complete transmissions of the eight major lineages of Vajrayana Buddhism  Mahamudra transmissions, instructions and practice of two of the three most important Mahamudra cycles, Ngedon Gyatsho and Marig Münsel from‭ her root Guru, Guru Vajradhara Chamgon Kenting Tai Situpa and Sangye Nyenpa Rinpoche, respectively.
Guru Vajradhara Chamgon Kenting Tai Situ Rinpoche appointed her Chöje Lama in 2013. She established Palpung Europe with its institutes and is Head Lama of The European Seat of The Palpung lineage.
Chöje Lama Palmo explains the dharma in an easy accessible and contemporary way, guides her students in accordance with the lineage, gives empowerments, leads retreats, etc. Besides her spiritual and social responsibilities she is actively involved in many fields. She planned our houses, managed their adaption and put it into action under great physical exertion. She painted, filled and consecrated our statues and shrine, sewed the thangkas and more and built furniture. She photographs, layouts, established Palpung Europe Publications, translates the richness of the Palpung lineage into a fresh, new German, authors two own books so far and yet more.