Palpung Europe was initially founded as Kagyu Thubten Chöling in 1997 by  H. H. Guru Vajradhara Chamgon Kenting Tai Situpa.
Since then we have been striving to set up a spiritual home for all those who feel connected to our lineage and who would like to meditate and practice in order to follow our great enlightened masters's example such as Marpa Lotsawa, Milarepa, Je Gampopa and the successive incarnations of H. H. Karmapa and Guru Vajradhara H. H. Chamgon Kenting Tai Situpa.
After having completed the traditional three years's retreat in 2004 Guru Vajradhara H. H. Chamgon Kenting Tai Situpa sent Chöje Lama Palmo to Japan and afterwards, following requests from practitioners, to Austria to start her activities there.
In the course of her stay in her mother monastery Palpung Sherab Ling in India, March 2005 Lama Palmo met Guru Vajradhara H. H. Chamgon Kenting Tai Situpa a couple of times during audiences when plans for a center in Austria were precisely talked through.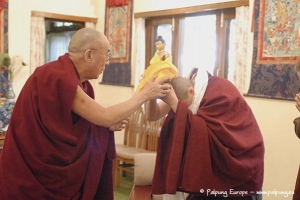 March 8, 2006 Lama Palmo met H. H. The 14th Dalai Lama in a private audience in Dharamsala during which she introduced His Holiness to the project, requesting his blessing. His Holiness bestowed advice, his blessing and presented Lama Palmo with a big statue of Buddha Shakyamuni at the end of the audience "for your institution". Further she met H. H. Gyalwang Karmapa in a private audience the very same day and His Holiness as well bestowed  his blessing and encouragement for the undertaking.
In 2007, the name for Lama Palmo's activities was changed to Palpung Yeshe Chökhor Ling Europe by Guru Vajradhara, plans and Lama Palmo's responsibilities newly talked through. Rinpoche appointed her teacher in residence.
In 2010, the completely run down house in Purkersdorf could be purchased which then was planned through, changed, adapted and renovated by Lama Palmo together with her students.
November 22, 2013, Lama Palmo was appointed Chöje Lama by Chamgon Dorje Chang Tai Situ Rinpoche. November 5, 2014 she received the traditional Tibetan Chöje Lama appointment document on silk, together with a Buddha Amithaba statue and a long kata and blessing string, personally knotted and blessed by Guru Vajradhara.
2014 the property in Langschlag was purchased and the existing living quarters straight away renovated. Adaption of the farm into a retreat institute is currently underway.