Guru Vajradhara H. H. Chamgon Kenting Tai Situpa's lineage
1. Chokyi Gyaltsen (1377 – 1448)
Chokyi Gyaltsen was born in the surroundings of Tara Gon. He was one of the main disciples of Dezhin Shegpa from whom he received all the transmissions and teachings of Kagyu lineage. Chokyi Gyaltsen was the first in the lineage who had been conferred with the title Chamgon Kenting Tai Situp Rinpoche, "Far reaching, unshakable, great master, holder of the command"  by the Chinese emperor of Ming dynasty. He spent most of his life in meditation.
2. Tashi Namgyal (1450 – 1497)
Tashi Namgyal was enthroned by the 6th Gyalwang Karmapa who discovered him and conferred on him the complete transmission. He became one of the main teachers of the seventh incarnation of Gyalwang Karmapa.
3. Tashi Paljor (1498 – 1541)
was recognized by the 7th Gyalwang Karmapa, was enthroned by him and received the complete Kagyu transmission from him, perfecting it. He recognized the 8th Gyalwang Karmapa and became his main teacher.
4. Chokyi Gocha (1542 – 1585)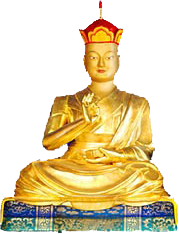 Chokyi Gocha continued his predecessor's work at Karma Gon and other monasteries in Eastern Tibet. He was enthroned by the 8th Gyalwang Karmapa from whom he received all the transmissions. In return Chokyi Gocha recognized the 9th Gyalwang Karmapa.
5. Chokyi Gyaltsen Palzang (1586 – 1657)
He was formally recognized by the 9th Gyalwang Karmapa, enthroned and received from him the complete transmissions. The 9th Gyalwang Karmapa acknowledged the spiritual mastery of the Chamgon Kenting Tai Situ Rinpoches and bestowed the Red Crown upon him, comparable to his Black Crown, to express their same level of accomplishment.
6. Mipham Chogyal Rabten (1658 – 1682)
Mipham Chogyal Rabten was recognized and enthroned by the tenth Gyalwang Karmapa from whom he received the complete lineage transmission. He spent some time in Tsurphu and Karma Gon in order to study, was a great Sanskrit scholar, astrologer, doctor, painter and composer of religious treatises.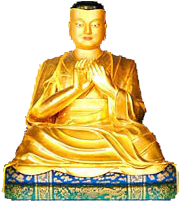 7. Mawe Nyima (1683 – 1698)
He was recognized immediately after his birth and admitted to a Sakya college. Unfortunately he passed away at a very early age, having only received the essence of the teachings.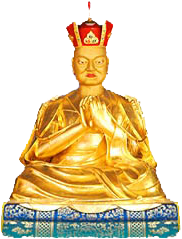 8. Chokyi Jungne (1700 – 1774)
Chokyi Jungne was the probably the  most well known incarnation within the lineage of the Chamgon Kenting Tai Situ Rinpoches. Recognized by the tenth Shamar Tulku, he was brought to Tsurphu where he was also enthroned. He was one of the most outstanding scholars of his time and author of many important texts. His extensive grammar of Tibetan language is one of the most advanced texts in practical use today. He taught in Sanskrit, Chinese and Nepali and was known for his spiritual ability to foresee the future. He was the teacher of the 13th Gyalwang Karmapa and of many others. But he was also a gifted doctor, astrologer, poet and artist who developed a new style of thangka painting. Since his students went on to excel in these various fields from that time on, Palpung became an important center of learning, art, meditation, ritual and culture and the mother monastery for Karma Kagyu in Eastern Tibet. Chamgon Kenting Tai Situ Rinpoche traveled extensively. When he passed away, his heart region was found warm for seven days afterwards.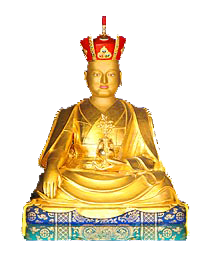 9. Pema Nyinje Wangpo (1774 – 1853)
He continued with Chokyi Jungne's work. At the age of five he was officially enthroned and received the complete transmissions from the 13th Gyalwang Karmapa and 10th Shamarpa. One of his main students was the first Jamgon Kongtrul Lodro Thaye. Pema Nyinje Wangpo became the main teacher of the 14th Gyalwa Karmapa and was closely connected with the great visionary Chogyur Lingpa. The last thirty years of his life he spent in retreat. When he left his body, the sky was filled with rainbows and many other auspicious signs were witnessed.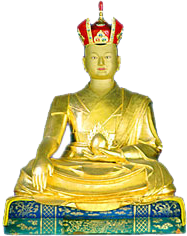 10. Pema Kunzang (1854 – 1885)
Pema Kunzang was discovered and enthroned by the student of his former incarnation, the 14th Gyalwang Karmapa, together with Jamgon Lodro Thaye. He spent his short life as yogi and by the power of his extraordinary meditative powers left his footprints on rocks.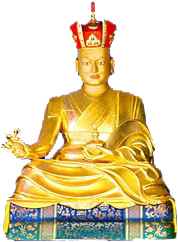 11. Pema Wangchug Gyalpo (1886 – 1952)
He was enthroned at the age of four years by the 15th Gyalwa Karmapa. At this time Palpung was already known everywhere as the center for spiritual, scholarly and artistic excellence and authority. Chamgon Kenting Tai Situ Rinpoche received all transmissions from Khakyab Dorje and Jamgon Kongtrul Rinpoche, traveled a lot to refine the discipline and conduct in all 180 monasteries under his care. He became the main teacher of the sixteenth Gyalwang Karmapa.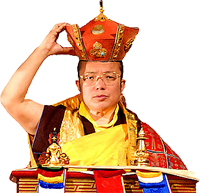 12. Pema Donyo Nyinje Wangpo
Pema Donyo Nyinje was born in Dege, Eastern Tibet. His birth was accompanied by many auspicious signs. When the sixteenth Gyalwang Karmapa together with the fourteenth Dalai Lama visited Beijing, he became aware of the birth of his heart son thus enabling the accurate recognition. Chamgon Kenting Tai Situ Rinpoche was enthroned at the age of eighteen months at Palpung monastery and recognized all the old servants of his previous incarnation. In 1959, due to the Chinese invasion, he was forced to leave his country and arrived in Bhutan. Finally he moved to Rumtek where he received the complete transmissions from the 16th Gyalwang Karmapa until 1975. With the blessings of Gyalwang Karmapa, at the age of twenty-two he established his first monastic project and founded Palpung Sherab Ling in Himachal Pradesh, North India which houses relics of the Guru Vajradhara H. H. 8th Chamgon Kenting Tai Situpa in a seperate stupa temple. As a Buddhist teacher, Guru Vajradhara H. H. Chamgon Kenting Tai Situpa regularly tours the world giving teachings and empowerments at the request of dharma centers: in 1981 Guru Vajradhara H. H. Chamgon Kenting Tai Situpa went on tour throughout Europe and visited America in 1982. Since then, Guru Vajradhara H. H. Chamgon Kenting Tai Situpa has traveled extensively in North America, Europe and Southeast Asia. These teachings are collected and published in nine books till now. In 1984 for the first time, he returned to Tibet and in 1991 spent three months in Palpung, East Tibet. 1989 Guru Vajradhara H. H. Chamgon Kenting Tai Situpa went on pilgrimage for World Peace. In 1992 he recognized the 17th incarnation of Gyalwang Karmapa and enthroned Gyalwang Karmapa in Tsurphu. Guru Vajradhara H. H. Chamgon Kenting Tai Situpa is the main Guru of the seventeenth Gyalwang Karmapa for Mahamudra and training in turn the next generation of Buddhist masters. He is actively involved in the advancement of inter-faith and -cultural humanitarian efforts and is a master scholar, poet, artist, calligrapher, architect, geomancer and philosoph. His art work was collected and published in four books so far. Guru Vajradhara H. H. Chamgon Kenting Tai Situpa is the Supreme Abbot of Palpung Sherab Ling in India and Palpung Thubten Chökhor Ling in Tibet and the Supreme Head of the Palpung Congregation with monasteries and centers throughout the world.
excerpted from "The Himalayas and Beyond"