Palpung Europe News June 2017

Palpung Europe News June 2017Renovation of City Institute Purkersdorfs nearing completion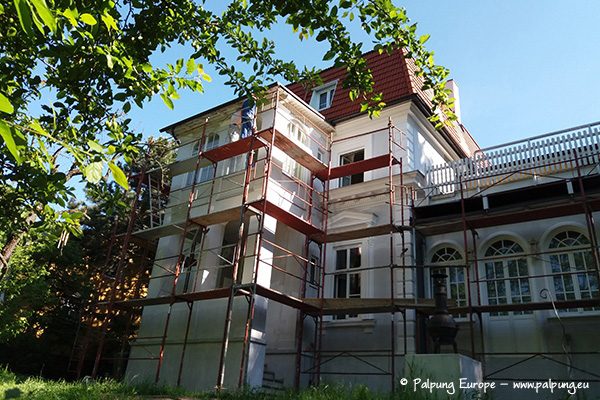 Our Palpung Europe City Institute Purkersdorf is now entering the completion phase of its renovation and adaptation!
The Residence for the Holinesses Chamgon Kenting Tai Situpa, Gyalwang Karmapa and Dalai Lama is almost complete, a shrine still needs to be built.
Currently, the backside of the facade is being renovated and restaurated wherever necessary, we received new durable cellar doors, the metal railing was replaced by a brick built one. The garden is being wired and we will receive a new lasting pathway system.
Further, we are about to erect a small butterlamp hut in order to be able to soon light more butterlamps.
And: the supporting wall as a socket for eight small stupas to commemorate the eight major events in Lord Buddha's life is already built. Only the stupas are still missing. This will be an independent project as it requires a lot of pre-work.
We are requesting all of you to actively support the completition of the Palpung Europe City Institute for the European Seat of Guru Vajradhara Chamgon Kenting Tai Situpa to soon shine forth in full splendor.