Khenpo Karthar Rinpoche's Passing
Our beloved Khenpo Karthar Rinpoche, my extraordinary retreat master passed into dharmakaya on the 6th of October 2019, at 3:35 in Karme Ling Retreat Center of Karma Triyana Dharmachakra, with a smile. He is remaining in Tugdam without being disturbed for three days. Rinpoche chose the 6th of October,  the 38th anniversary of his Guru's, The Gyalwa Karmapa Rangjung Rigpe Dorje's passsing, according to the Tsurphu calender.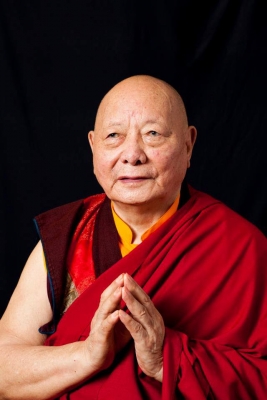 Although I am the most unsuitable and unqualified to say anything about this great being and who he really is, Khenpo Rinpoche is definitely the kindest master who always looked after everyone whoever he met with greatest love and affection equally, including myself.
After I came out of retreat where I almost died, I heard he shed so many tears about my condition whilst in there, daily. He fed me with blood pills and black pills from his guru, The Glorious 16th Gyalwang Karmapa and checked on me every single day, praying for me so I don't die and so much more.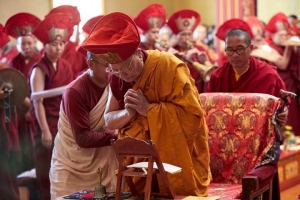 I love Rinpoche for his direct and strict, loving yet demanding care for as long as I will live and beyond, for his unshakable love for his Guru Vajradhara, Yizhin Norbu, the 16th Gyalwang Karmapa.
Having had the great fortune to receive an ocean of instructions so precious and rare from him for such a short time only, how must it be for those whose root guru he was and who followed him for so many years. I can hardly imagine their grief.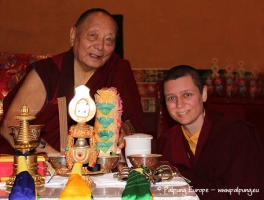 For as long as I live, I will always aspire to simply love without distinction and fully, to completely serve our outstanding lineage and my exalted, holy Guru Vajradhara, become like him.
I am requesting everyone who is connected with me even if you hadn't had the great merit to meet this wonderful guru, to please pray for the swift return of this precious master.
We will regularly offer butterlamps and prayers in our City Institute for Rinpoche's swift return.