Palpung Europe Welfare is Palpung Europe's arm of charitable activities where we practice our social responsibility actively in service of the community.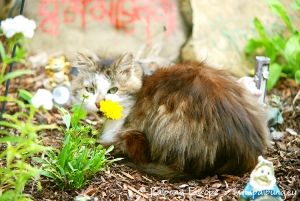 Besides few smaller undertakings engaging punctually, directly and indirectly in local projects, our main focus is providing space for animals with farming background in our Retreat Institute in accordance with the Buddhist tradition of saving lives and after having been blessed by the Three Jewels in a ceremony, a sphere where they can spend their evening of life both carefree and cared for, as they please.
Currently we have fourteen cats (and rising) and are gratefully accepting food for them (both in actual food as well as in money through our donation button on the right). More animals will follow as soon as we will have created accommodation space for them.