New Palpung teaching program by H. H. Guru Vajradhara Chamgon Kenting Tai Situpa
Discovering the Buddha Within
Level One: Inner Peace
Transmitted by H. E. Yonge Mingyur Rinpoche
in Porto, Portugal
August 7 – 11, 2020
Venue: Crown Plaza Porto, Porto, Portugal
Registration form will be available on March 1, 2020 at 0h00 GMT+2 (Paris and Porto time) at www.palpungdharmachakra.org
Any inquiries:  registration@palpungdharmachakra.org (in English)
Organizer: Palpung Dharma Chakra Association
Discovering the Buddha Within is an experiential learning program of the Buddha Dharma created by His Holiness the 12th Chamgon Kenting Tai Situpa. Guru Vajradhara feels it's time to install and transmit a well-designed curriculum with teachings and instructions step by step from the three Yanas (Theravada, Mahayana and Vajrayana) to ensure a sound foundation of Buddha Dharma knowledge which can lead to a meaningful and fruitful study and practice according to the lineage.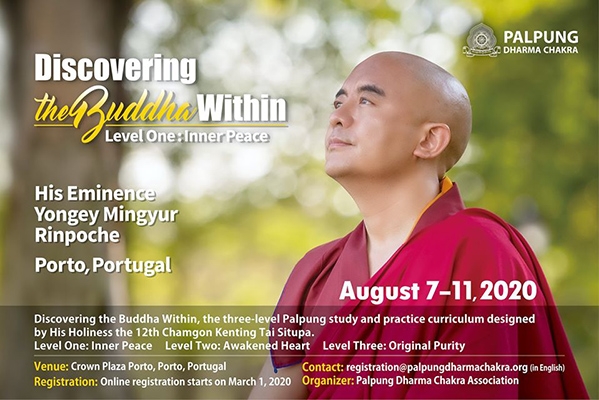 Guru Vajradhara might not be able to frequently visit every place all the time to carry out the teaching programs. Thus, he has appointed His Eminence Yongey Mingyur Rinpoche to lead the teaching effort and to carry out his designed curriculum accordingly with the assistance of other Rinpoches and Senior Khenpos from Palpung Sherabling Monastic Seat whom he appointed. His Eminence Yongey Mingyur Rinpoche will transmit three teaching seminars per year, one in each of Europe, America, and Asia. Rinpoches such as His Eminence Chungpo Gyalton Rinpoche and in particular the appointed Khenpos will conduct the teachings locally, in the Palpung monasteries and Dharma Centers worldwide every year.
The aim of this curriculum is to explain the essence of the Buddha's teachings in an easy and
understandable yet comprehensive way.  
The Discovering the Buddha Within curriculum consists of three levels:
Level One: Inner Peace
Level Two: Awakened Heart
Level Three: Original Purity