Chöje Lama Palmo's brief teachings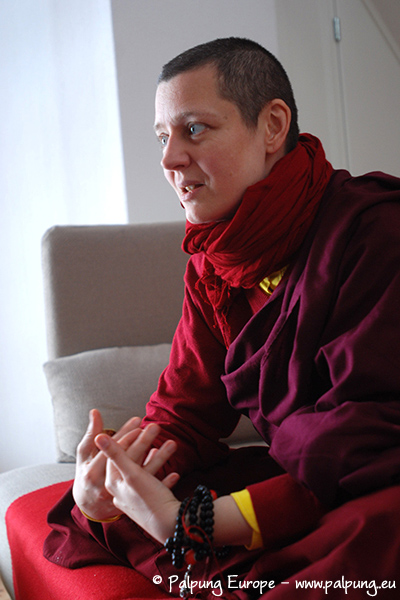 On these pages you may find short teachings by Chöje Lama Palmo, dealing with short and concise subjects that might bring benefit to everyones's daily lives, no matter if they are Buddhists or Non-Buddhists, Interested or Newcomers.
They are direct responses to students' quests; either written by Lama-la for this purpose or are excerpts from the various teachings given by her: fresh and warm, joyful and contemporary, plain and simple.
You may find a small choice directly beneath. All further teachings can be navigated through the white box on the right.
Live life to the max
I miss love and sincerity in this world. This is not lip service, I sincerely mean it. Our life styles are superficial, our food is superficial, our  … Read more
Softy
How wonderful, could we really feel free! The good new is: it can be achieved and everyone can learn it, no matter what their background. If we allow … Read more
We are all (no) Superheros
We all thirst for security, protection and safety. Out of this impetus wir take refuge in all possible, I am even tempted to say, all impossible things … Read more
Happiness
Our day to day happiness is very shallow and fragile. Authentic happiness is vast, unconditional and hence overwhelmingly beautiful. The search  … Read more
New Years' greetings
On these pages you may find a collection of Chöje Lama Palmo's New Years' greetings from 2009 onwards, written for her students and friends … Read more